Save the Date!
OTTAWA HEALTH GROUP RE-OPENING MONDAY JUNE 8, 2020
We are back !!!!
We missed you.
We have taken this seriously and adjusted.
We have made changes. We have made policies.
We are safe.
Now is the time to get you back to feeling your best.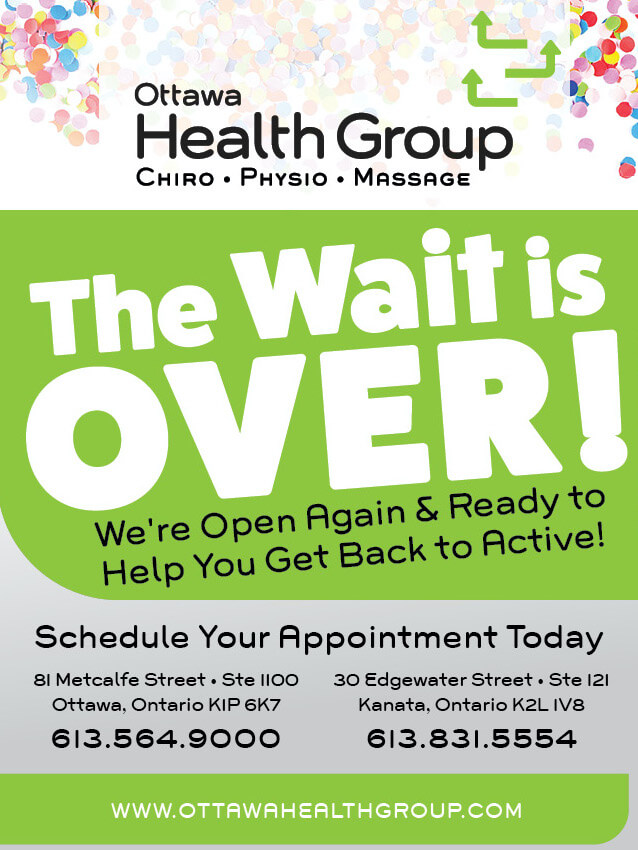 ---
COVID-19 Protocol
Our clinics have been open for acute/emergency care during the COVID Crisis and we will continue to do so next week. We are now pleased to announce our Downtown and Kanata Clinics will be OPEN for Chiropractic, Physiotherapy and Massage Therapy starting on Monday, June 8th. You will be able to book your regular appointments on Monday June 1st. Our priority is the health and wellbeing of our patients and our Team. We are taking next week to focus on scheduling patient appointments and implementing all the COVID-19 health and safety standards. We can assure you that our Clinics meet and exceed the federal and provincial guidelines to ensure a smooth and safe reopening.
We have always made your safety and comfort our top priority. Now more than ever, in light of COVID-19, we have implemented additional protocols and procedures in order to set your mind at ease and ensure your trust in us. Going forward and on a daily basis, the following is a list of the steps we will take to promote a safe and clean environment:
Hand sanitizer will be readily available and required prior to entering the office and in all treatment rooms.
Our Team will screen each patient.
Appointments are spaced to permit social distancing and limiting the number of patients in the clinic for care at a given time.
OHG's healthcare providers will wear masks while caring for you. Our Team will be wearing masks if safe social distancing is not possible. A plexiglass barrier is set up between front desk and reception area.
Patients are strongly encouraged to wear their own mask to their scheduled appointment and if you do not have a mask we do have masks for purchase.
All Appointments must be scheduled in advance to avoid contact between patients. NO walk-in patients are permitted.
Patients are required to enter the Clinic only at the time of their scheduled appointment.
We ask only the person who is scheduled for the appointment to enter the clinic unless assistance is required.
Patients are required to complete a self-assessment screening prior to entering the clinic by answering the following questions:
Do you have a fever, chills?
Do you have a cough?
Do you have shortness of breath or difficulty breathing?
Have you been in close contact with a person who has confirmed COVID-19 or is under investigation for COVID-19 in the past 14 days?
Have you or anyone from your household travelled outside of Canada in the past 14 days?
Tags: physiotherapy, physiotherapist, COVID-19