OHG: Downtown Ottawa
The Ottawa Health Group is located in the heart of downtown Ottawa, ON, situated at 81 Metcalfe St. between Slater Street and Albert Street. This convenient location makes it the ideal clinic for your Chiropractic, Physiotherapy, and Massage Therapy needs.
We have a highly experienced team of Doctors of Chiropractic, massage therapists and physiotherapists who offer specialized treatment services for any pain, injury, or discomfort you may be feeling. Our patients have found high levels of success in our treatment services, due to our patient-centric approach to care, integrating the expertise and skills of our practitioners enabling you to achieve the best possible health solutions for pain relief, healing, and future injury prevention needs along with ongoing wellness care empowering you, as a patient, to live the life you want .
Our Mission
At the end of the day, our team is here to provide support to YOU – the patient. Our success is dependent upon your success, and we strive to create a warm and welcoming environment where you can comfortably heal.
At Ottawa Health Group, we have one mission: helping our patients reach their highest physical potential. Our treatment plans are aimed toward the achievement of each patient's goals, taking into account their symptoms, medical history, and any health restrictions they may have. We look forward to watching each and every one of our patients achieve their goals. With our care and commitment, we know that is possible for anyone who walks through our doors.
If you are in Ottawa, ON area, or any of the surrounding areas, and you are looking for relief, look no further. Ottawa Health Group is here to help as one of the most favored Ottawa, ON chiropractic, massage and physiotherapy practices. Call our office at (613) 564-9000 to schedule an appointment with one of our chiropractors, physiotherapists, or massage therapists today! We will be happy to meet with you and create a plan for your journey toward health, healing, and pain relief.
Address
81 Metcalfe Street
Suite 1100
Ottawa ON, K1P 6K7
F:613-564-0917
Business Hours
Monday 6:45am – 6pm
Tuesday 6:45am – 6pm
Wednesday 6:45am – 6pm
Thursday 6:45am – 6pm
Friday 6:45am – 6pm
Saturday closed
Sunday closed
CHIROPRACTIC

Chiropractors focus on the source of pain, not the symptoms and adjustments are applied to areas of reduced mobility in either the spine or the extremities. An adjustment restores normal movement to the joints, reduces muscle spasm and relieves pressure on the surrounding nerves.

MASSAGE THERAPY

Registered massage therapists release adhesions or tension in the soft tissues using their hands. We use massage therapy to help people manage or recover from a wide range of conditions, including back and neck pain, arthritis, migraines, sports and auto-accident related injuries, fibromyalgia, and psychological disorders.

PHYSIOTHERAPY

Physiotherapists are movement specialist and use physiotherapy for pain relief, strengthening, and functional integration. Our physiotherapists will make sure that your treatment plan won't bring you any pain or discomfort, but instead, get you back to doing all the things you love.
Downtown Ottawa
Chiropractors • Physiotherapists • Massage Therapists
Meet the Ottawa Health Group family, a team you can trust.
We listen, we empower, we care.
Our front line team consists of dedicated individuals who are kind, friendly and caring. We are a family business and we are here to ensure a pleasant experience during your visit to our office and to help you in any way we can. Our commitment to you is to exceed your expectations on every visit.
Our practitioners are a group of accomplished chiropractors, physiotherapists and massage therapists who bring extensive clinical experience, expertise, and energy to our practice. Our goal is to communicate with you, listen to your specific health needs and your desired health outcomes. You are our priority! A vital part of your care involves your active participation. This involves educating and empowering you to make informed decisions and to improve your overall outcomes and success. We are always open to extend our collaboration of your care with your family physician and other health care professionals.
We know living with pain or restrictions makes life difficult. We recognize that every patient is different and that your individual needs will vary from those of others. That is why you can expect a personalized treatment plan to fit your unique needs, with a focus on rapid pain relief, restorative recovery and rehab, moving you along the road of long term wellness and optimal health.
Enabling you to experience life that way you want to experience it.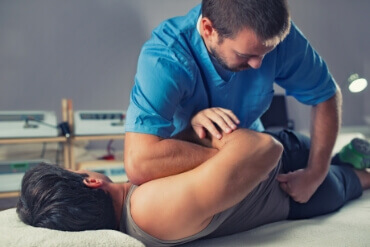 We Specialize In Relieving the Pain of Downtown Ottawa, ON
Chiropractic, massage, and physiotherapy can be highly effective to relieve pain by providing a type of treatment you may need when your pain makes it hard to move around and do everyday tasks. Our treatments help you move better and may relieve your pain. They also help improve or restore your physical function and your fitness level. The goal of Ottawa Health Group is to make your daily tasks and activities easier. For example, we may help you with walking, going up stairs, or getting in and out of bed. In addition, chiropractic and physiotherapy often provides the best treatment for a variety of different pains, not only providing relief, but also teaching you techniques to prevent re-injury and avoid pain in the future. We specialize in the integrative treatment of a range of health concerns and injuries relieving the pain and improving the overall wellness of our community.
What Downtown Ottawa Thinks About
Ottawa Health Group
They help me vet well, very nice and caring people!
Lana L.
A fantastic place, with very well trained therapists.
Piccy
I have been going here for years. Highly recommended, lovely staff, and everyone is always friendly and helpful. Their prices are always reasonable too. They offer top-notch chiropractic and massage therapy sessions.
Belinda W.
Always a fantastic experience here. I was recommended to see Dr. Mark for chiropractic care by a colleague and have been very impressed with the results. The staff here are all welcoming and wonderful and it's a full service team with chiropractic, massage, and acupuncture among other services. I highly recommend the Ottawa Health Group!  
Beth M.
Absolutely wonderful place for therapy, I love the entire staff!
Denise M.
Dr. Dave Zanet is the man with the master plan. Fixed my hip, gave me hope, my neck is still a work in progress but that's entirely because my neck hates me. He truly cares and is proactive and super knowledgeable; a true OG. And he laughs at all my lame jokes, like genuine laugh, not fake laugh (unless he's a good actor), so that's a bonus.  
Lejla J.
Friendly smiles and caring staff, blessings and love them all ?
Rosastella R.
Are you suffering from pain or limited range of motion?
If you're suffering from any of these symptoms, fill out the form to request an appointment.